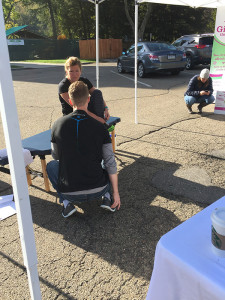 This past Sunday, local running enthusiasts gathered in North Park to participate in the annual Quick Chick 5K/10K hosted by Mojo Running. Female participants of all ages came out for some exercise, and to support research towards exercise induced hypertension. The event raised awareness on the topic, while providing a fun and supportive environment for women to get out and get active.
A majority of the athletes competed to best their own times, and for some friendly competition amongst others runners. Others used the course to enjoy the great weather and walk for the cause.
Many of the athletes stopped by Dr. Jaicks' tent for soft tissue treatments like Myofascial Release and Instrument Assisted Soft Tissue Mobilization to address any movement based issues. Whether as preventative or therapeutic, these treatments all focus on improving athletic performance, recovery, and everyday function.