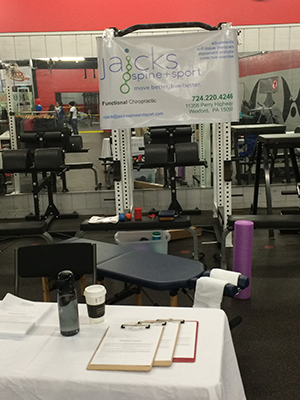 This past Saturday, R.A.W. Training hosted one of the biggest CrossFit competitions of the year in the Tristate area.  The annual Fall Brawl showcased over 130 high level male and female CrossFit athletes.
Competitors were put through 3 mentally and physically taxing workouts that involved a combination of Olympic lifting, gymnastic movements, and endurance exercises.  Training for and competing in such competitions places a high demand on the body and requires athletes to pay particular attention to any weakness or movement restrictions they may have.
Many of the athletes and spectators (who themselves are crossfitters) stopped by Dr. Jaicks' treatment area.  He provided soft tissue treatments like Myofascial Release and Instrument Assisted Soft Tissue Mobilization to help improve movement quality, performance, and recovery for athletes throughout the day.  He also provided injury prevention screens for anyone in attendance to help with everyday functionality.
Congrats to all the athletes and sponsors for a great competition!